Posted on | September 29, 2011 | No Comments
Although he is 36 years old David Beckham still attracts the interest of important clubs from Europe.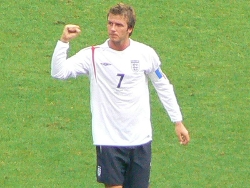 The former Real Madrid and Manchester United star contract with Los Angeles Galaxy is going to expire in a few months and he is looking for a new club. Another club interested in signing David Beckham are QPR from England second division. PSG have expressed their intentions to sign Beckham this winter when the transfer period starts.
David Beckham had another two European  experiences after joining LA Galaxy in 2007 both at AC Milan on loan.
The talented midfielder is well known as one of the best free kick takers and a perfect passer.
The midfielder is part of that golden generation from Manchester United along Scholes, Giggs, Neville brothers.
Beckham played 115 games for England and scored 17 goals.

Comments