Posted on | December 6, 2012 | No Comments
David Beckham is one of the greatest British player ever. The 37 years old is the most capped England player if we made exception from the goalkeepers.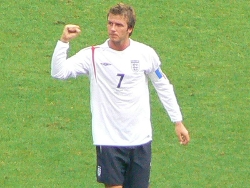 Even if he past his prime, Beckham is still a target for many clubs from around the World. And that's because of his image and the marketing stuff.
The former England international left Real Madrid for LA Galaxy five years ago for a fabulous contract. Now after that experience Beckham declared that he needs one last challenge. He  stated that he would love to play in Champions  League again but that depends on which teams will offer him a deal.
Even if there are clubs from Australia or Asia interested in signing him Beckham will probably opt for a European team. QPR, Tottenham, Monaco or West Ham are only a few teams that would bring him to their squad.

Comments