Posted on | October 27, 2010 | No Comments
Every football fan knows how important was Diego Milito for Inter last season.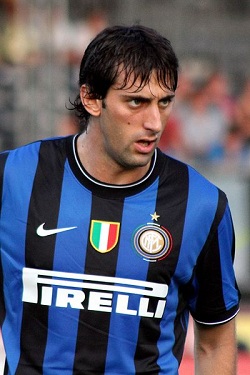 Milito scored 30 goals in all competitions last year, 22 of them in Serie A.
The 31 year old forward scored in both games against Milan and also against Siena in the last game of the season when they secured the "Scudetto".
His goals were decisive for Inter's last year performances when they won their first treble in the history. Also he was surpassed only by Antonio Di Natale in the top scorers standings for 2009-2010 season.
The Argentine international scored 2 goals in Coppa Italia, one of them in the semi-final against Fiorentina and  the only goal in the final against Roma.
In Champions League only Messi, Ronaldo and Drogba scored more goals than him. He scored against CSKA Moscow, Chelsea, Barcelona and Bayern.
He was "only" part of Argentine squad in South Africa World Championship. I say "only" part because Higuain, Tevez or Aguero were preferred to Milito in the attack by Maradona. He played only 11 minutes and failed to make an impression.
Milito was considered by many football fans the best player of last season. Despite all these performance Milito was not included in the list with the nominees for Ballon d'Or.

Comments