Posted on | March 7, 2009 | No Comments
Accordingly to latest reports Milan and LA Galaxy have reached an agreement regarding Beckham extension with "the rossoneri".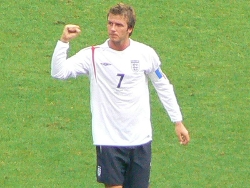 Beckham's loan at Milan was supposed to end in few days but finally after weeks of negotiations LA Galaxy have accepted to extend the period until season ending in Italy.
The 33 year-old England international gave up to a considerably sum of money in order to complete the negotiations.  Galliani had only words of praise for the English superstar, giving him as an example for the rest of the players.
Of course Beckham had not only lost from this move and some reasons that made him stay are:
1. World Cup 2010
Everybody knows how important is a World Cup for a player. After MLS transfer, Beckham lost his place in England team and his presence at the final tournament was in danger. Everything started to work better for him after he came to Milan.
2. Milan is one of the best teams in the World
Milan is one of the best teams in the World and wearing "the rossoneri" shirt is an honor for every player. Also what can be better than playing for top teams in all three major championships: England, Spain and Italy?
3. LA Galaxy is having a bad season
MLS is different than any European championship. Also LA Galaxy is not doing well in the championship which is not accepted by him.
4. The fans are angry at him
Probably Beckham will not have a warm reception at his return. Most of the fans were disappointed when he decided to leave LA Galaxy for Milan.
5. Last chance
At 33 years old you cannot think at your future. Probably this is the last challenge for him and would be a pity to lose it.
Beckham's contract with LA Galaxy will expire in autumn when Milan could take him for free.

Comments