Posted on | March 9, 2019 | No Comments
Latest rumors from Spain suggest that Real Madrid are prepared to offer up to €350 million to sign Neymar from PSG. Also they are willing to make him the best paid football player by offering him € 45 million per season.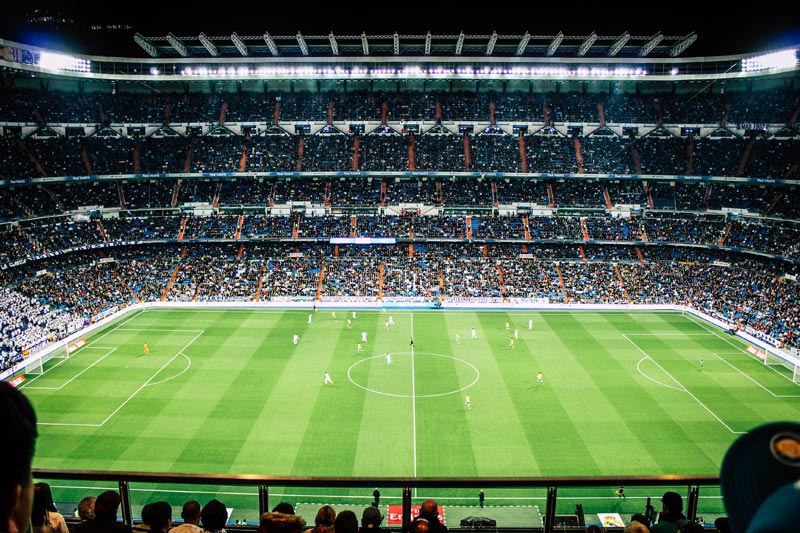 After winning three consecutive Campions League titles, Real Madrid have one of the worst seasons. They were eliminated from Champions League, Spainish Cup, and 15 points behind their rivals from Barcelona in LaLiga standings.
Real have scored only 43 goals in 26 games this season, and it looks like Ronaldo's departure was a bad decision. Ronaldo joined Juventus last summer after failing to reach another agreement with the board. The transfer sum was around €112 million. Also Zidane's decision to leave the club affected the players morale.
Another possible reason for this disastrous season might be the players age. Most of the starting line-up players are above 30 years old, and some of them have passed their best.
That's why Real Madrid will probably invest massively this summer, and Neymar is their main target. Kylian Mbappe is also on their list but is believed that the French star will be harder to convince to leave his country.
Of course some players will also leave Bernabeu. Bale, Isco, Kroos, Marcelo are the first names on the list but not only.
One thing is sure,Real Madrid will have to spent big if they are willing to return to winning days.
Posted on | February 1, 2019 | No Comments
Originally being an activity primarily held at the weekend, the growing popularity and wider range of football fixtures has made it possible to create your own tips for football betting daily each week. All potential outcomes are covered by the extensive markets from the bookmakers, and additional competitions such as the Champions League, Europa League, EFL Cup and FA Cup allow for even more fixtures to place money on.
The masses of options for how you choose to make football betting tips are seen as a positive and a negative, making it easier to bet on exactly what you think is likely to happen, but also being seen as an obstacle for inexperienced punters who struggle to identify what to bet on.It's likely that another football fixture is on the cards throughout the current week – as well as plenty of the expected weekend games – but if you're looking to bet on one of the many weekday games, we've offered a helping hand on how to pick insightful football betting tips between Monday and Friday.
Choose your football fixture(s)
Bookmaker apps and websites provide odds on all scheduled matches several weeks in advance, making it possible to back your bets early and take the best price. Monday night football continues the selection of games at the weekend and you'll often find a Friday night fixture to kick off the next weekend in a similar style, with games also often played between Tuesday and Thursday, especially for domestic and European competitions. Through choosing your match, which is likely to be from one of Europe's more recognised leagues, you can create football betting tips as a single, introduce other games to make a football accumulator, or back an enhanced market that's been boosted by your chosen bookmaker.
Select your method of betting
You might not realise it, but football betting tips come in all different shapes and sizes. With this being the case, you aren't solely limited to predicting the match result, instead being given the opportunity to bet on every possible outcome over ninety minutes including over 2.5 goals, both teams to score, anytime goalscorers, and many other more extensive options. The bookies continue to cater to a more varied array of different markets to enhance your football betting tips, which helps massively as it prevents you from backing something else due to the fact that you can't be specific with your football prediction.
Back your bet at the biggest odds
The last port of call for backing any bets is to assure that you're placing them at the biggest available odds. It's easy to do this by cross-referencing the price you've been given over all popular bookmakers, with it being a worthwhile process as each bookie possesses a different price. You shouldn't base your football betting tips on the odds you're being given, but they can be an indication of their chances of landing, with higher odds often meaning that the bookies are doubting that your bet will win.
Posted on | November 1, 2018 | No Comments
Travelling across Europe to watch your favourite team play in the Champions League is never a cheap venture, but the amount can vary massively depending on the group stage draw.
This season Manchester City, Liverpool, Tottenham and Manchester United are all competing in Europe's premier tournament, in the hope that they can propel English club football back to the top.
Manchester City are the current favourites to win the tournament and according to Champions League betting, they are 9/2, just ahead of Barcelona who are 5/1.
Manchester City
Despite being the favourites, City lost their opening game, as Lyon stunned the Premier League champions, winning 2-1 at the Etihad Stadium.
City have also travelled to their other two group stage opponents, Hoffenheim and Shakhtar Donetsk and picked up maximum points, renewing their hope of winning a first Champions League title.
Liverpool
The Reds finished as the runners-up in last season's Champions League, losing out to Real Madrid in the final. This season, they have been drawn against Serie A runners-up Napoli, Ligue 1 winners PSG and Serbian SuperLiga winners Red Star Belgrade.
Liverpool have played one away match so far, a trip to Naples to take on Napoli, a match in which they lost in the dying minutes thanks to a goal from Lorenzo Insigne. Their fans still have trips to Paris and Belgrade to look forward to.
Tottenham Hotspur
When Spurs fans watched the draw for the Champions League group stage this season, alarm bells began to ring as they were drawn against Barcelona, Inter Milan and PSV Eindhoven.
Having failed to win so far, losing away to Inter Milan and at home to Barcelona and then drawing away to PSV, Tottenham's hopes of reaching the knockout phase have been severely dented. Although Spurs fans have arguably the easiest away trips with regards to journey times, that will be of little comfort given their current form in Europe.
Manchester United
Jose Mourinho has endured a poor start to his third season in charge of Manchester United. The Red Devils currently lie in 8th place in the Premier League and haven't fared much better in Europe, winning only one of their opening three Champions League matches, away to BSC Young Boys.
United still have to travel to Valencia and Turin before knowing their final position within the group. These away trips will see the Red Devils face a struggling Valencia and a Juventus team who have former United star Cristiano Ronaldo at their disposal.
The infographic below examines the price the English fans must pay to watch their team away in the Champions League.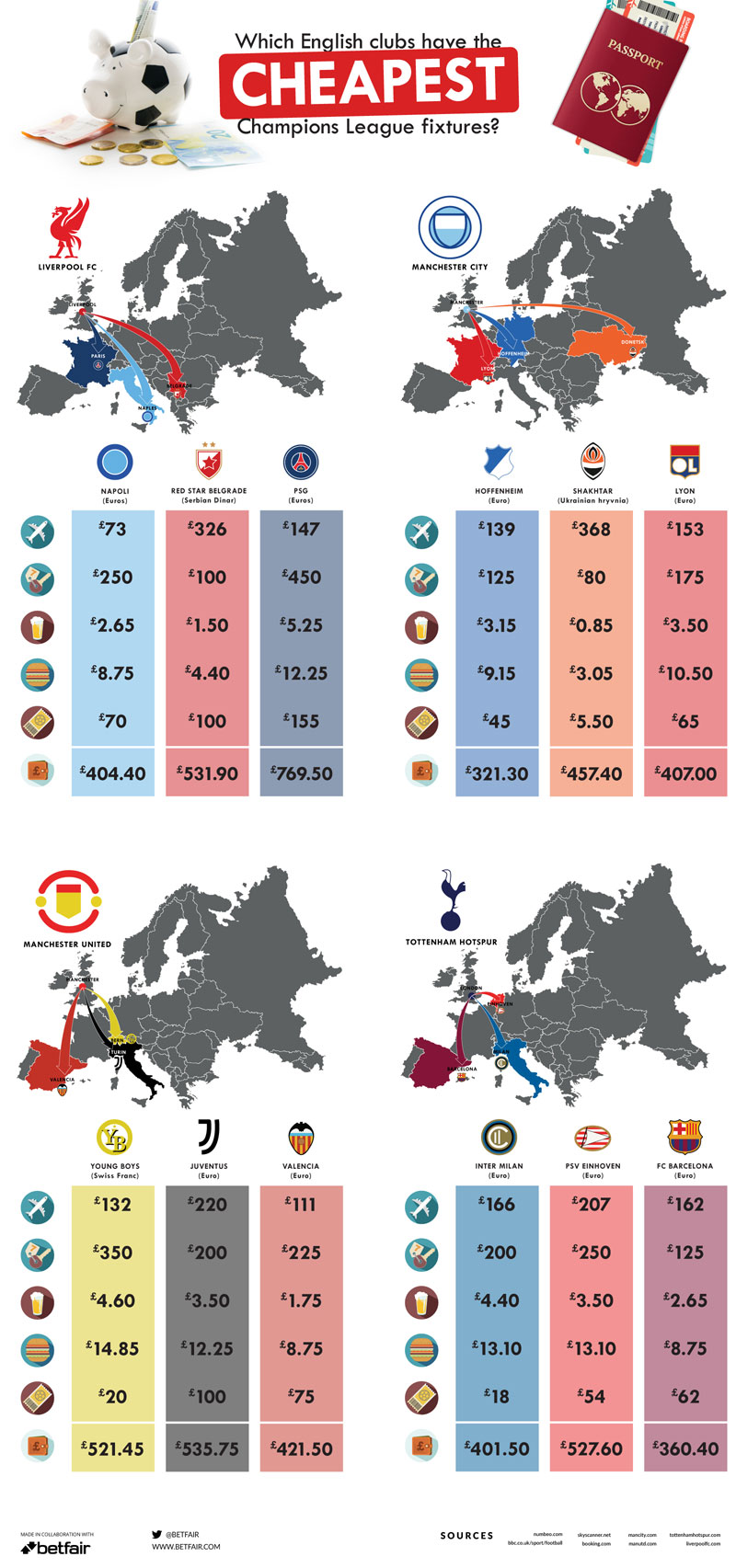 Posted on | October 23, 2018 | No Comments
Chelsea chairman Bruce Buck has insisted the club will "do what they have to do" to keep Eden Hazard at Stamford Bridge amid continued speculation over the Belgian star's future. Hazard's current contract at Chelsea expires at the end of next season, and Real Madrid have made no secret over the fact they are monitoring the forward's situation in London. The 27-year old has only increased speculation regarding his future by admitting it would be a childhood dream to play for Spanish giants, who themselves are looking for someone to fill the sizeable boots left by Cristiano Ronaldo.
Hazard has started this season where he left the last, playing a key role in head coach Maurizio Sarri's impressive start to life in England, scoring seven league goals in his first eight appearances of the campaign. On the back of a sensational couple of seasons in the Premier League, Real Madrid appear to have made the forward their number-one priority, targeting Hazard as the man to fill the gap left by Ronaldo's departure to Juventus during the summer.
Chelsea's plan to keep Hazard at the club appears to be to offer their star man a huge new contract. But, at this stage of his career, it might not be just money that motivates the Belgium international. Without Champions League football this season, Hazard's hopes of challenging the likes of Ronaldo and Lionel Messi for the tag as the world's best player will be tough. While it's looking likely that Chelsea will return to European football's elite next season, currently second in the table and as short as 1/5 with the Premier League betting odds to finish in the top four this year, it may not be enough to convince Hazard to stay.
With his contract now entering the final 18 months, Chelsea will need to know whether or not their talisman intends on staying beyond his current deal, with a huge transfer fee at stake should he be allowed to run his contract down. And when looking at world football, it's not hard to see why Real are so keen on Hazard. Aside from Ronaldo and Messi, Hazard has a very strong case to suggest he is the best player in the world at the moment. And with the Belgian seemingly open to moving to the Bernabeu, it's looking as though Chelsea have a real battle on their hands to keep their main man.

That all said, Hazard has never come out to claim he will push for a move from the club he joined six years ago from French side Lille. While he hasn't hidden his desire to play at the highest level, nor his respect and admiration for Real Madrid, so far, at least, Hazard has maintained a professional air regarding his future – something that perhaps wasn't the case for his compatriot Thibaut Courtois in the run-up to his switch to Madrid.
The fact remains, however, that when Real find a player they really want to sign, it's very rare they don't get their man.
Posted on | October 18, 2018 | No Comments
There have already been a number of star performers even at this early stage of the premier league season. Chelsea are the surprise package at present as punters continue to use the latest offer at fanduel to support them for the title. Can they topple the defending champions Manchester City and the attacking powerhouses of Liverpool? Here we cover some of the stars of the season thus far.
ALISSON – LIVERPOOL
Liverpool's keeper, Alisson has been a key addition to the squad. He has made a solid start to the season as the club continue to challenge for the league. At present eight games in, he is one of two keepers to have only conceded three goals. He also sits at the top of the table for saved shot percentage, so can be help them end their wait for another league title.
JOHN STONES – MANCHESTER CITY
It is exciting times for English football as the national team continues to go from strength to strength. They are coming off the back of a starring performance in beating Spain, and one player who is continuing to improve is defender, John Stones. The Manchester City defender is proving a revelation at the back since a stuttering start as pressure piled on him due to his big money move. He sits at the top of the interception, clearance and pass completion charts. He is set to play a leading role in their attempt to defend the premier league title.
JORGINHO – CHELSEA
He does not do anything flash but the impact he has on the team is unquestionable. He followed Chelsea's new manager Sarri over from Napoli just showing the esteem he is held in. Chelsea are now renowned for the vast amount of passes they make and this is headed by the Italian. Jorginho continues to control the side from the middle and is all but set to break the premier league passing record unless an injury occurs.
EDEN HAZARD– CHELSEA
Another Chelsea player and the current star of the season is Eden Hazard. He kicked off the current campaign in flying form following a starring role for Belgium at the world cup in Russia. He sits at the top of the scoring charts and he really looks to be excelling from the role he is playing under new manager, Sarri. Hazard is now in talks as a future winner of the Ballon d'or but can he first help lead Chelsea to another premier league title.
Posted on | August 18, 2010 | No Comments
The video replay one of the most discussed topic in football in the recent years.
Everyone expects from the referees to be perfect, or at least to reduce the mistakes during the games but it looks that this is a very hard task to do. So everyone tries to find solutions, and Fifa is pressed from all sides to come with an alternative.
In the first phase Fifa tried the system with 6 referees, tested it in Europa League, but even this solution doesn't seem to be better. There were also speculations that the ball should contain a chip to signal when the ball passes the line of the goal but the solutions is not well seen by the specialists.
So at the moment it looks like the only viable solution is the video replay.Regarding the video replay the opinions are divided with a plus for it. Fifa is pressed to take a decision especially after the World Cup mistakes, when some of them proved to be crucial.
So after rugby, basketball, tennis or american football we might have video replays also in football. This decision would bring advantages but not only.
At advantages we can mention fewer mistakes that can decide games and fewer scandals. On the other side the spirit and the charm of the game would suffer.  Imagine for example a game show with a similar setup – a Who Wants To Be Millionaire Online Game for example would take so long and become boring. Also the game could have more than 10 minutes of additional time which could determine the players to lose their patience  awaiting for the verdict, the fluidity of the game could also suffer.
The final decision will be taken in November but there are chances for a positive answer.
keep looking »
Visit Casino Internet to find the latest online casino.
Visit this great UK-site where you can claim new uk casino deals all year around!
Compare New sports betting sites and the latest welcome offers
CasinoRunner is a great source for new no deposit casinos in the UK.
Have you ever wondered if sports betting and online gambling are legal in America? We came across Casinous.com, a comparison site that provides players with useful information regarding gambling laws.
Sports-betting players who reside in France looking for meilleur casino enligne (best online casino), are advised to read more information at lecasinoenligne.io before wagering with real money.
Visit our website where we provide full in depth reviews of new bookmakers online and deposit bonuses that boast your bankroll, along with useful info about the online gambling world.
Sports Sites that I like