Posted on | November 1, 2018 | No Comments
Travelling across Europe to watch your favourite team play in the Champions League is never a cheap venture, but the amount can vary massively depending on the group stage draw.
This season Manchester City, Liverpool, Tottenham and Manchester United are all competing in Europe's premier tournament, in the hope that they can propel English club football back to the top.
Manchester City are the current favourites to win the tournament and according to Champions League betting, they are 9/2, just ahead of Barcelona who are 5/1.
Manchester City
Despite being the favourites, City lost their opening game, as Lyon stunned the Premier League champions, winning 2-1 at the Etihad Stadium.
City have also travelled to their other two group stage opponents, Hoffenheim and Shakhtar Donetsk and picked up maximum points, renewing their hope of winning a first Champions League title.
Liverpool
The Reds finished as the runners-up in last season's Champions League, losing out to Real Madrid in the final. This season, they have been drawn against Serie A runners-up Napoli, Ligue 1 winners PSG and Serbian SuperLiga winners Red Star Belgrade.
Liverpool have played one away match so far, a trip to Naples to take on Napoli, a match in which they lost in the dying minutes thanks to a goal from Lorenzo Insigne. Their fans still have trips to Paris and Belgrade to look forward to.
Tottenham Hotspur
When Spurs fans watched the draw for the Champions League group stage this season, alarm bells began to ring as they were drawn against Barcelona, Inter Milan and PSV Eindhoven.
Having failed to win so far, losing away to Inter Milan and at home to Barcelona and then drawing away to PSV, Tottenham's hopes of reaching the knockout phase have been severely dented. Although Spurs fans have arguably the easiest away trips with regards to journey times, that will be of little comfort given their current form in Europe.
Manchester United
Jose Mourinho has endured a poor start to his third season in charge of Manchester United. The Red Devils currently lie in 8th place in the Premier League and haven't fared much better in Europe, winning only one of their opening three Champions League matches, away to BSC Young Boys.
United still have to travel to Valencia and Turin before knowing their final position within the group. These away trips will see the Red Devils face a struggling Valencia and a Juventus team who have former United star Cristiano Ronaldo at their disposal.
The infographic below examines the price the English fans must pay to watch their team away in the Champions League.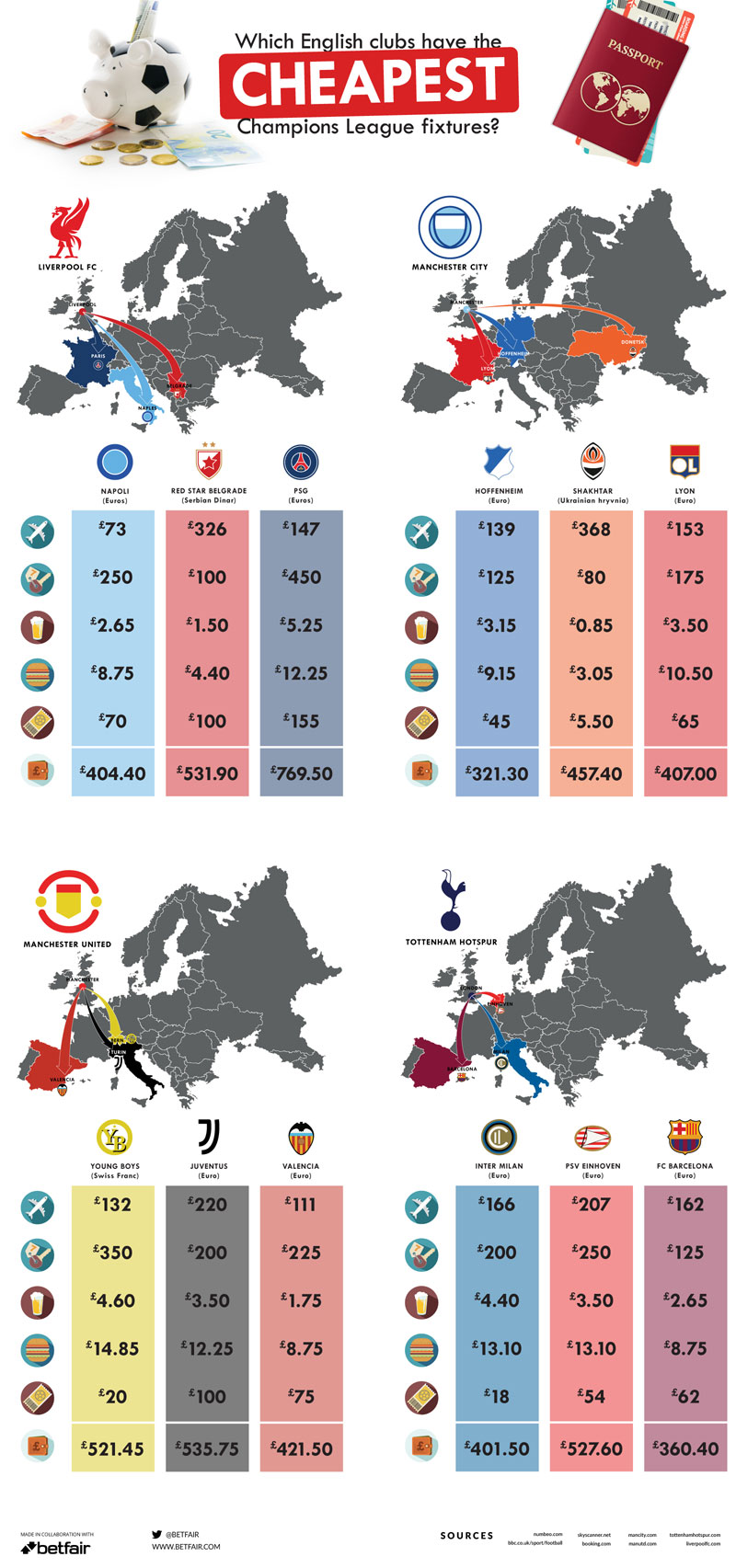 Comments